Upgrade your jacket to "Top Gun" status with the 17 patches in our Top Gun Patch Set.
The Top Gun Patch Set (1st Movie) features:
Pete Mitchell Shield patch (2 1/2″)
VF-1 Squadron patch (4″)
NAS Jacksonville Base patch (5 1/4″)
CV-34 Oriskany Carrier patch (5″)
CV-61 Centurion patch (3 1/4″)
Vigilance patch (4 1/4″)
USN Seabees patch (3 1/2″)
Texas Flag patch (3 3/4″ x 5″)
US 7th Fleet patch (4 1/2″)
3rd Marine Amphib patch (4″)
3rd Marine Wing patch (4″ wide)
CVW-19/VF-194 Cruise patch (4″)
DLG-32 Cruise patch (4 1/4″)
CLG-3/1963 Far East Cruise patch (5″ x 4″)
American Flag patch (2″ x 3.25″)
Tom Cat patch (3.5″)
Comcrudes-9 patch (5″ x 6″)
Example of patches on jacket: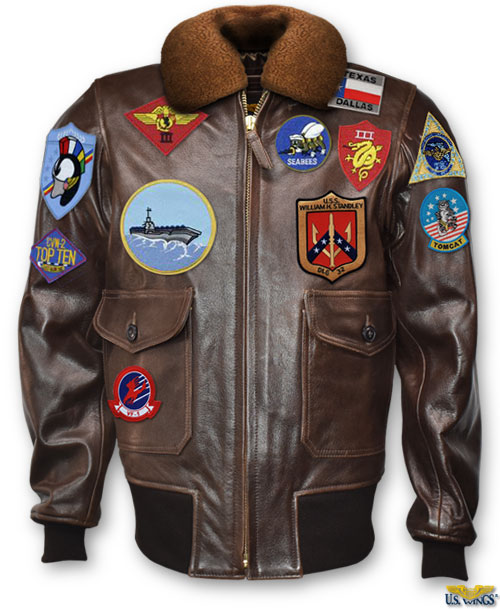 Do you want us to add these patches to your jacket?
For a total price of $458 (patches and to have them sewn on) plus the cost of return shipping – $19.95 – you can have all 17 of these patches sewn onto the jacket of your choice. Please print and fill out the form below. In the special instructions section on the form, please include the SKU of this item (MTGP1).