Our Cooper Original™ Antique Striated Lambskin Modern A-2 Jacket features a shell made from the finest striated lambskin available, antiqued to give it that subtle vintage look and designed to age rapidly as you wear it! In fact, you really must see this jacket to fully appreciate just how supple and luxurious the leather is! The jacket is hand-aged to achieve its distinctive antiqued finish, resulting in subtle color variations throughout, so no two jackets will look exactly alike. The lambskin we use is quite substantial too, unlike the thin lambskin found in "fashion" leather jackets; it's the kind of lambskin worthy of an adventure jacket!
The Cooper Original™ Leather Flight Jacket Modern A-2 features:
Snap down collar
One piece back
Snap close cargo pockets
Stitched down epaulets
Military spec brass zipper
Side entry hand warmer pockets
Brown satin nylon lining
Knit cuffs and waistband
Available in Regular and Long
Fit: Trim
Color: Antique Brown
US Wings Bomber Jackets mean History & Heritage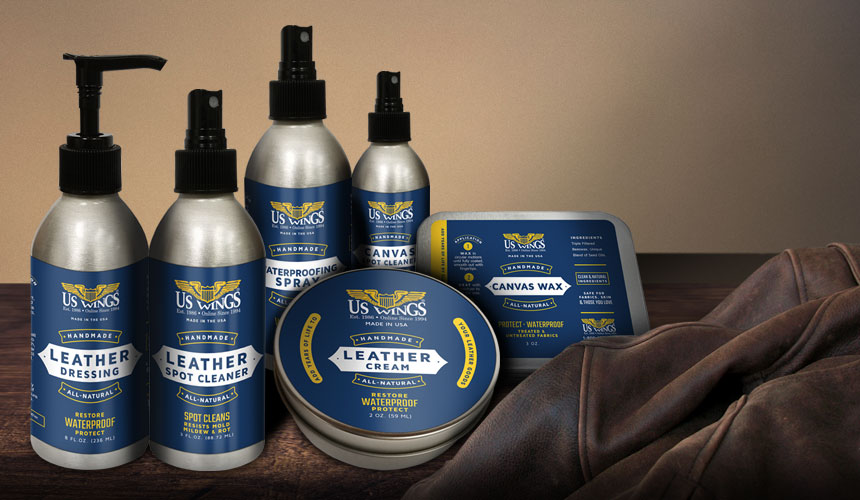 These products are all natural and hand made in the USA. It will help preserve your new jacket or add years back to your old one. Exposure to the elements and regular wear will dry out and fade your jacket. Replenish your jacket now!
The Modern A-2:
The A-2 leather flight jacket is an American military flight jacket. Originally invented and developed for the World War II U.S. Army Air Forces pilots. After a brief period of not issuing jackets to pilots, the modern A-2 was developed and issued. It was said that the popular film, "Top Gun" may have influenced the new A-2. The first Air Force A-2 contract was awarded to Avirex, but all subsequent contracts from 1988 to 1998 were awarded to Neil Cooper USA, now U.S. Wings of Ohio. The modern design differs from the original design in several ways. With a looser fit, made from goatskin in seal brown, side entry pockets, and an inside wallet pockets.