Cooper Original™ American Bison A-2 Jacket:
In the Old West, long before the age of flight, bison leather was prized for its strength and durability and was commonly used in the clothing and gear of the time. We've taken that same "tough as nails" material and created what we feel is one of the finest & most unique flight jackets in the world: our Cooper Original "Old West" American Bison A-2. It's handmade from premium farm-raised bison and is manufactured to the same strict military standards & specs as our military-issue A-2s.
Bison leather is as rugged and durable as cowhide but has the suppleness of lambskin and the antique seal brown finish features beautiful graining. Features include two front cargo pockets with side-entry handwarmers, a snap-down collar, an interior pocket, nylon lining, one-piece back panel, and knit cuffs & waistband. This jacket is the perfect amalgam of classic styling, uniqueness of material, comfort, durability and outstanding craftsmanship. So if you've always wanted an A-2 jacket that's constructed from a truly distinctive leather, our American Bison A-2 is the one to get! It's built like a tank and made to last a lifetime!
US Wings Bomber Jackets mean History & Heritage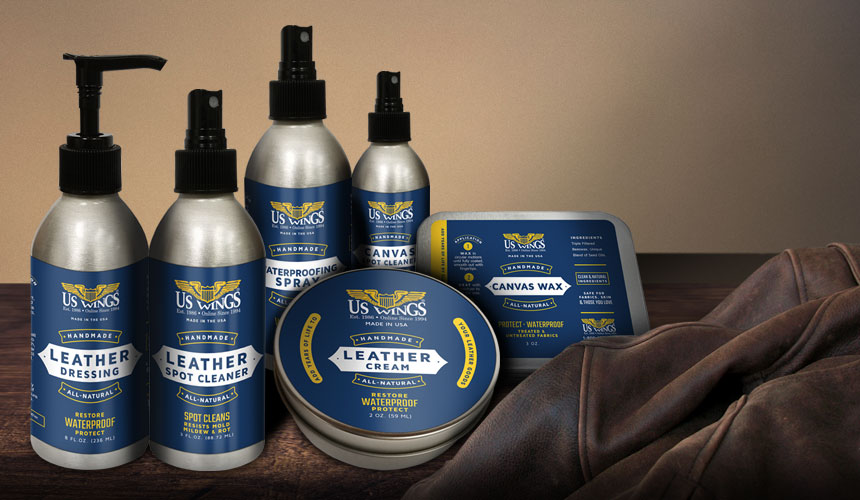 These products are all natural and hand made in the USA. It will help preserve your new jacket or add years back to your old one. Exposure to the elements and regular wear will dry out and fade your jacket. Replenish your jacket now!
The Modern A-2:
The A-2 leather flight jacket is an American military flight jacket. Originally invented and developed for the World War II U.S. Army Air Forces pilots. After a brief period of not issuing jackets to pilots, the modern A-2 was developed and issued. It was said that the popular film, "Top Gun" may have influenced the new A-2. The first Air Force A-2 contract was awarded to Avirex, but all subsequent contracts from 1988 to 1998 were awarded to Neil Cooper USA, now U.S. Wings of Ohio. The modern design differs from the original design in several ways. With a looser fit, made from goatskin in seal brown, side entry pockets, and an inside wallet pockets.