As the excitement builds for the 5th Indiana Jones movie, US Wings is your Indy-Jacket Headquarters.  US Wings has long been known for it's  Authentic Indy-Style Jackets.  The "Indy-Style" jacket is an integral part of the famous fedora-wearing, bullwhip-toting, tomb-raiding professor of archaeology. As a result of a hybrid of the Type 440 and the A-2, the Indy-Style jackets have their own uniqueness and iconic style.
Indiana Jones 5
Indiana Jones 5 has been confirmed for a possible July 2022 release with Harrison Ford returning to his role as Indiana Jones.  This is great news for fans of the franchise and a great time to gear up with one of our authentic Indy-style jackets!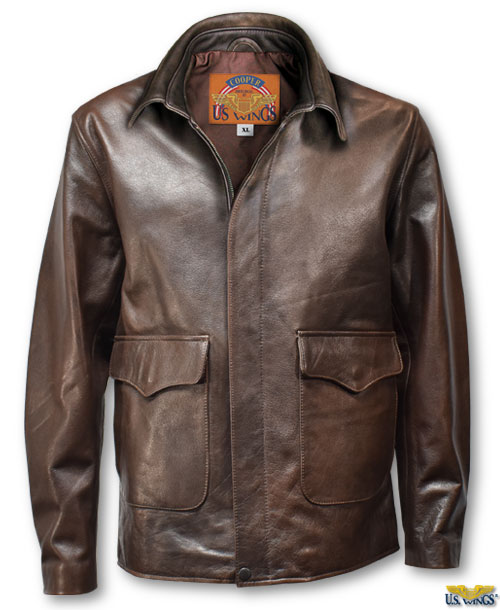 Cape Buffalo Indy Jacket
Our Cape Buffalo Indy-style Adventurer Jacket is one of the toughest & most durable jackets we manufacture.  A true adventurer's jacket, it's tough enough to handle your next foray into the rugged outback.  Most noteworthy it's used by the stunt actors who perform in the "Indiana Jones Epic Stunt Spectacular" show at Walt Disney World in Florida.   The antique brown cape buffalo leather is also wonderfully soft & rich looking.  It has all the quality & luxury you would expect from a high-end leather jacket.  As well as making it equally appealing to any cultivated, dyed-in-the-wool urbanite.  A US Wings exclusive!
Vintage Cowhide Indy Jacket
Another popular Indy-style jacket is our Signature Series Vintage Cowhide Indy-style Adventurer Jacket.  It has been out of production for the last two years but is now back in stock! This outstanding jacket has the versatility, functionality and style that all true adventurers look for.   Made from pre-distressed full-grain cowhide from the same tannery that supplied the leather for the on-screen jackets for the fourth Indy Jones movie. This outstanding jacket is made in the USA and received the "Best Leather Jacket" Award from BestLeather.org in 2015.
Striated Lamb Indy Jacket
We first produced a "striated" lambskin jacket back in 1985 but this type of jacket has been absent from our current line for quite some time. Our Cooper Original Striated Antique Lambskin Indy-style Jacket starts with the finest Italian lambskins, which are hand-stretched to achieve its unique striated appearance. This results in a wonderfully "grainy" and rugged-looking jacket and no two jackets will look exactly alike.
Dashing through the jungle or racing across the desert, the Indy-Style jackets will protect you from all the elements. Regardless of the leather type, our jackets are not just for "fashion", but tough enough to stand-up to all your real-life adventurers.
European style
US Wings now offers our  worldwide customers a left hand pull zipper for an additional charge of $50.00
After all, there is a little Indiana Jones in all of us.